REQUEST A CALL BACK
Our friendly staff will be in touch with you shortly.
Emergency Electrician South Sydney
Staywired Electrical South Sydney are the first people you need to call for rewiring, new lighting systems, extra power points, hot water system repairs and anything else electrical. With a loyal customer base from the St George region through the Sutherland Shire and beyond, Staywired are proud to be your local electrician in South Sydney.
Qualified South Sydney Electricians
All our South Sydney electricians have undergone extensive college and on-the-job training that fully complies with industry standards. However, book learning is one thing, but nothing is more valuable than hands-on experience, and all our electricians have built up a wealth of priceless knowledge over the decades, working on all manner of residential and commercial electrical problems from Peakhurst to Kogarah and from Cronulla to Sutherland. Knowledge that allows them to effortlessly diagnose your electrical issue and get everything working again in no time at all.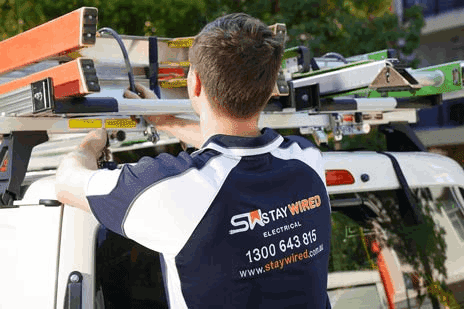 St. George Electricians | Sutherland Shire Electrical
Drive for about an hour south of the Sydney CBD and you come to St. George and the Sutherland Shire. A lively and bustling area that teams old and new Australian residents, and places them side by side in the multi-cultural heartland that is South Sydney.
One of Sydney's fastest growing areas, Southern Sydney is home to many ethnic groups, and is home to a large and vibrant multi-cultural community.
Emergency Electrician South Sydney
With scores of older apartments and rental properties in the South Sydney area, Staywired get a lot of emergency electrical call-outs from landlords and residents alike to repair faulty lights and fix power outages and other damaged electrical systems. And with Staywired South Sydney being on-call 24 hours a day, 7 days a week, we can get there lickety–split, as our electricians are just around the corner from where you live.
Commercial Electrician South Sydney
Staywired have for many years been the 'go-to' electrician for the thriving South Sydney business districts of Hurstville, Kogarah, Rockdale, Sutherland, Miranda and Cronulla. Business owners in these area have long understood that the best technology in the world is useless if you can't turn them on. So if you're running a busy company in the St. George and Sutherland Shire areas, put us on speed-dial for when an electrical problem raises its ugly head. Because time, as the old saying goes, is money! And as we're local to you, we can be there and sort out the problem in no time at all.
Call Now for a No Obligation Electrical Quote
Please call our dedicated customer service team now on 1300 643 185 to discuss your electrical fault and arrange for a no-obligation site visit and quotation by our helpful and friendly team.
Click here for Electricians Sydney.
Are you looking for a reliable electrician in South Sydney? StayWired Electrical provides high-quality electrical services to residents and business owners across the city and suburbs. From simple residential installations to complex commercial fit-outs and more, we've got you covered. We also provide a reliable 24/7 emergency service — for when you need help out of business hours. If you need an electrician in South Sydney or elsewhere in Sydney, please get in touch with StayWired Electrical today.
Maintenance and repairs
Our trusted electricians perform a range of maintenance and repair services to keep your home or business in perfect working order. If you have a specific electrical issue, we can diagnose and fix your problem fast. If you need regular maintenance, we offer ongoing service contracts, safety inspections, and more.
Electrical installations
We offer a variety of residential and commercial installations for electrical infrastructure and appliances, including domestic white goods and commercial equipment. From smoke detectors and ceiling fans to safety switches, power outlets, and data connections, we can do it all.
Safety inspections and testing
At StayWired Electrical, we believe in safety at all times. Electricity can be dangerous, and our safety services are designed to protect your people and property. We can test electrical services and appliances, inspect switchboards and smoke detectors, and install new wiring solutions to keep you safe and secure.
Emergency electrical services
Electricity problems can occur at any time of the day or night. At StayWired Electrical, our emergency team is available on a 24/7 basis, 365 days a year. We can visit your South Sydney home or business at short notice and solve your electrical problems fast at a competitive price.
Get in touch with StayWired Electrical today if you're looking for an upfront, honest and superior-service electrician in South Sydney.
Punctual, Quick and Tidy

Honest, Friendly & Professional

Competitively Priced

Superior Workmanship

Available 24/7, All Year Round
What our customers say about us
For your peace of mind, have a look at what the customers of Staywired Electrical have said about our company, service and work
Deals for your budget
At Staywired Electrical, we know that our customers want our superior quality workmanship at a reasonable price. Therefore, we review our pricing regularly to come up with special offers for our existing and new customers. Please click on our offers below to see which one will suit you.
Terms and conditions of offers: * 1 offer can only be used per booking. * Each offer can only be used when the appointment is booked to occur between 7am and 4 pm, Monday to Friday. * Any discount offer is not redeemable for cash * In order to receive the 'refer a friend' discount on your next job booking, you must provide us with your friend's full name and the date and time of the job they booked. * When booking online the value of the job must be greater than 400 dollars to be eligible for the discount