Do you need a skilled and reliable electrician in
Electrician North Shore
Call
1300 643 815
for an upfront, honest and a superior service from one of our friendly electricians.
REQUEST A CALL BACK
Our friendly staff will be in touch with you shortly.
Electrician North Shore
If you're searching for a highly regarded and reliable electrician in the North Shore of Sydney (both Lower North Shore and Upper North Shore) you need look no further than Staywired Electrical. As your local electrician we can respond quickly to emergency calls at the drop of a hat, and are on-hand to help with any electrical repairs or maintenance issues, both large and small.
North Shore Electrical Specialists
Sydney's Lower North Shore is a wonderful place to live. On the one hand, the quiet, leafy streets and spectacular harbour views make you feel like you are a million miles from anywhere. When in reality you're only ever a ten minute train ride or a fifteen minute drive from wherever you want to go (including the Sydney CBD).
With suburbs like McMahons Point, Wollstonecraft, Kirribilli, Waverton and Lavender Bay on one side, and Neutral Bay, Cremorne and Mosman on the other, there really is no better place to live in Sydney. And as Staywired are local to the North Shore area, we're only ever a few minutes away when you call. Be it a regular electrical problem or a full blown electrical emergency, Staywired have the know-how to fix the issue.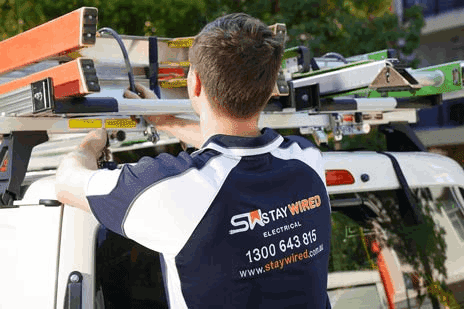 Commercial Electrician North Sydney, St. Leonards, Chatswood
While much of our electrical work is for people looking for a residential electrician, Staywired also specialise in commercial electrical issues, and are ever present in the business hubs of North Sydney, Chatswood and St. Leonards.
When a company's power goes down, business grinds to a halt. Which is why Staywired act to get your office back up and running, fast.
A Full Range of Electrical Services
Stay Wired offers a comprehensive service to both residential and business customers. We pride ourselves on being innovative, always keeping abreast of new electrical systems and techniques, and encourage our staff to follow structured training programmes. Whether you need to fit out a brand new office suite, refurbish a chic waterfront restaurant or rewire a your home or apartment, we can offer a professional electrical solution that is second to none.
Maybe you've got a broken power-point, or faulty wiring, or maybe circuit-breakers that keep annoyingly tripping for no apparent reason? Or perhaps your hot water system isn't working correctly, or your ceiling fans are on the fritz? We can help with all these things and more. In fact, if it's electrical in nature, we have the expertise and the manpower to fix it for you.
Emergency Electrician
Electrical problems always seem to happen when you least expect them. Maybe you've got that university assignment due tomorrow and your power supply suddenly switches off and you can't print the very thing you've been working on for the last three weeks! Or maybe it's early on Sunday morning and you wake up to find that your hot water system has shut down for no apparent reason? Who do you call then? With our unrivaled local north shore knowledge and 24-hour emergency electrician call-out service, Staywired can get to you fast, carry out diagnostics and get your electrics working with minimal disruption.
Electrical Maintenance – Prevention is Better than Cure
It's always worth keeping an eye out for things like flickering lights or electrical equipment acting unusually, as it often costs a lot less to fix the problem before it become endemic, than to call in an electrician after the fact. Plus, when you're dealing with something as potentially dangerous as electrical current, ignoring the problem can be catastrophic, with electrocution and fire very real and present dangers.
So whatever your electrical needs, call Stay Wired Electrical North Shore today on 1300 643 185.
Click here for Electricians Sydney.
If you need any electrical work completed in your home or at your business, look no further than Stay Wired Electricians. On the North Shore, whether you're looking for an electrician in Glenfield, Browns Bay or anywhere else on the North Shore, Stay Wired Electrical is here to help you with all of your electrical needs. Tailored to suit you and your specific situation, we excel in various electrical services, from small tasks like general maintenance and switchboard upgrades to large-scale jobs such as solar panel installation and the rewiring of your home.
Our friendly team will ensure the job is done promptly with minimal disruption to your home or work life. Stay Wired Electricians are your #1 local North Shore electrician and we will provide you with a free quote before delivering high quality, reliable services. We pride ourselves on our punctuality and professionalism. So you can rest assured that all work is completed quickly and efficiently, leaving you more time to enjoy the things that truly matter. If you require any electrical work in your home or business – do not hesitate to contact Stay Wired Electricians for a quote today.
We understand that businesses and homes are different, which is why we tailor our services to both. Get in touch with us today for a free quote and see how we can help you! Our highly skilled team of insured and licensed electricians work effectively and efficiently to ensure that all work is carried out promptly, providing the best possible services at a competitive rate, from simple maintenance to the most complex projects. Our electrical services include:
Electrical Wiring Sydney

Data Cabling

Real Estate Property Maintenance

Home Switchboard Upgrades & Repairs

Commercial Switchboard Upgrades & Repairs

Rewiring

Fault Finding & Electrical Testing

Lighting Installation & Fitting

Electrical Appliance Installation
Commercial electrical work can be daunting for many business owners, especially if you're not sure what exactly is involved. From repairs, switchboard upgrades & replacements, we will have your electrical work running smoothly at a competitive price. We provide top-quality advanced electrical services in the North Shore suburbs of Sydney. We have a reputation for quality and service excellence and strive to improve our services and achieve a high level of satisfaction with all of our clients, new and old. There's no job too big or too small for us. We have a team of skilled and experienced electricians ready to assist you with all your electrical needs. Our services also extend to the Inner West and Hills District.
Punctual, Quick and Tidy

Honest, Friendly & Professional

Competitively Priced

Superior Workmanship

Available 24/7, All Year Round
What our customers say about us
For your peace of mind, have a look at what the customers of Staywired Electrical have said about our company, service and work
Deals for your budget
At Staywired Electrical, we know that our customers want our superior quality workmanship at a reasonable price. Therefore, we review our pricing regularly to come up with special offers for our existing and new customers. Please click on our offers below to see which one will suit you.
Terms and conditions of offers: * 1 offer can only be used per booking. * Each offer can only be used when the appointment is booked to occur between 7am and 4 pm, Monday to Friday. * Any discount offer is not redeemable for cash * In order to receive the 'refer a friend' discount on your next job booking, you must provide us with your friend's full name and the date and time of the job they booked. * When booking online the value of the job must be greater than 400 dollars to be eligible for the discount